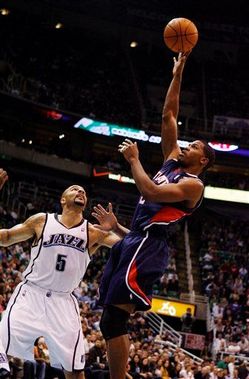 Joe Johnson is one popular man. He will meet with the Atlanta Hawks this week before free agency begins. Once it does start, the Knicks will be talking to him not long after midnight. He has been rumored as a possibility with the Heat and Rockets as well.
Now add Dallas to the mix.
Yahoo's Adrian Wojnarowskk reports that the Mavericks will go after Johnson as well once free agency starts. He would bring Dallas an upgrade at the two, they have not had as good a shooting guard or as good a defender at the spot as Johnson. His spot up shooting would be a good fit with the passing of Jason Kidd and Dirk Nowitzki. That said, shooting guard was not really a weak link on the Mavs, while center was.
What makes this interesting is the Mavs are over the salary cap, so the only way they could get Johnson is through a sign-and-trade. It likely would include the contract of Erick Dampier, who can be cut to save money, although the Hawks may want talent like Caron Butler or young players like Rodrique Beaubois in the deal.
Dallas is working hard to insert itself into the free agent market, to shake up the roster and make another run at a title with Dirk Nowitzki at the center of the roster. Johnson or no, they will make one big move this summer.