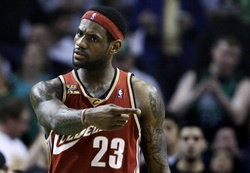 At some point, it's going to come down to just him. LeBron James sitting in a quiet room (or laying in his bed or wherever he does his best thinking) and weighing all the options. Then making a choice.
But there are a lot of variables in front of him.
One is ownership — he's entrusting the prime of his career to an owner and an organization. Will that owner be committed to building and maintaining a winner? Marc Stein says that is a major key in a new post at ESPN.
History also says that LeBron, from his years studying uber-successful mentors Warren Buffett and Jay-Z, is big on the word "partnership." Sources with a pipeline to his inner circle say that James has been schooled to approach his long-awaited foray into free agency as a search for a business partner who can help cement the legacy of the LeBron brand as opposed to a strict hunt for the on-the-court sidekicks who can help him win the multiple championships he needs to get anywhere near Global Icon status.
Simply put, it's why the Dallas Mavericks actually have a shot — Mark Cuban is someone LeBron admires. The Nets have a shot because of Mikhail Prokhorov. It's why — as we detailed this morning — Chicago will have questions to answer. And the reason the Knicks are a longshot is James Dolan, not Mike D'Antoni. Do we even need to get into the Clippers ownership?
The other big variable is coaches. Something Matt Moore breaks down over at CBSSports.
If there's one thing (LeBron's) playoff failures have taught him, from Detroit to San Antonio to Boston to Orlando and then Boston again, it's that defense wins championships. He's had that mantra pounded into him from the day the Cavs made the playoffs, and all his most successful teams have been built around defense. It would take a dramatic departure for James to embrace D'Antoni's style, which would defensively result in more highlight breakaways off of turnovers, but would also make life much harder for him against the Eastern elite.
Mike Brown preached defense first in Cleveland, Danny Ferry kept giving him players like Shaq and Antawn Jamison. Tough fit. Now Cleveland doesn't even have a coach, so a little tough to predict their style.
Tom Thibodeau in Chicago however, has to intrigue. The Bulls will be a good defensive team next year. But nobody knows quite what his offense is going to look like. He said as his press conference he wants Derrick Rose to initiate the offense, but how much does that change if LeBron comes over?
It's a lot of questions. A lot of variables. A lot of things to think about when LeBron is alone.