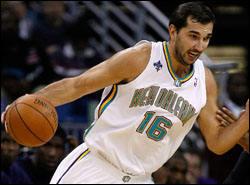 It only seems like everyone is opting out of their contracts right now.
There are some guys out there riding the gravy train of bad general manager decisions, guys who are perfectly happy to keep their current bloated deals for next season.
Meet Peja Stojakovic and Vladimir Radmanovic. Stojakovic is owed $15.3 million next season by the New Orleans Hornets. Radmanovic will get $6.9 million from Golden State. Despite the fantasies of the front offices in New Orleans and the Bay Area, the agent for both men told FanHouse they will take the money, thank you very much.
"There's no decision to make," (agent David) Bauman said in an interview with FanHouse. "They're not going to opt out."
Really, there isn't a decision there. Neither man would make anywhere near that on the open market. Both guys will be used as trade bait this season, you can bet on that. Nice fat expiring deals.
And do not go blaming these men — they signed the deals put in front of them. As they should have, they got the most money they could. And they have every right to expect teams to live up to them. The mistakes were not theirs.
That doesn't mean the teams have to like it.