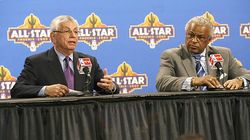 Back in February, the NBA Players Association laughed at and rejected outright a new Collective Bargaining Agreement proposal from owners. That proposal used the current economy as a reason to call for a radical shift in the NBA's deal with players: Shifting 10 percent more of basketball income to the owners, a hard salary cap, no guaranteed contracts, and making all current contracts retroactively conform to the new deal.
The players said no way. Now after their weekend meetings in Las Vegas the Players Association is about to submit its first counter proposal to the owners, according to a FanHouse report.
The owners are going to laugh and treat it the same way the players treated their first proposal. Because the players first offer will want things to stay pretty much exactly as they are.
That's part of the negotiating game — in your first offer you ask for the moon, knowing that there will be compromises but in the end you can get some of what you want.
But right now, the Players Association and owners disagree on the basic economics of the league, the foundation for any deal. The owners say they are losing money fast, with Stern saying at the All-Star break they would lose $400 million this year. The players disagree, pointing to teams like Dallas and New York where arena and television networks owned by the same owner are not factored properly into what counts as profit. Plus, the economy is starting to improve.
What does it mean, fans? Brace for a lockout one year from now.
"It's very simple. We don't want a lockout," (Adonal) Foyle, an Orlando center, said Sunday in a phone interview with FanHouse about what could occur when the current collective bargaining agreement (CBA) expires June 30, 2011. "We think that this business is going very well. But, at the same time, we are preparing guys for the next year just to make sure. We're telling them to save their money more … We'll take a deal yesterday or take a deal tomorrow. But it has to be a fair deal….

"I think it's safe to say that we're very aware of what's happening in the economy, and we're very sensitive to what's happening globally," Foyle said. "But we have looked at everything with the overall (financial) numbers (involving the NBA). At the end of the game … it's how the numbers are split up (between the owners and the players)."…

"The league is very profitable," Foyle said. "I think that the league is healthy … We're waiting on the final numbers (from the NBA season, which should be available in the first week of July). The salary cap is not going to be as low as it had been expected, and that's a pretty good indication we're doing OK. It was thought it could be as low as $51 million … But it might be just a one-percent drop (many project the cap will be about $56 million, which actually would be nearly a three-percent drop from 2009-10's $57.7 million)."