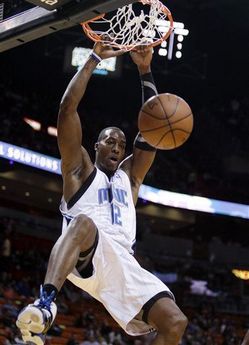 Two months back, Dwight Howard left Aaron Goodwin as his agent, with rumors swirling a family member would take over, but now he has landed with Dan Fegan.
Which makes it a pretty good summer for Fegan, who also has John Wall on his client list.
Ken Berger of CBSSports had the story first, and the lines of reasoning from Howard's camp.
Fegan also is a well-versed participant in the ongoing CBA negotiations that could dramatically affect Howard's on-court earning potential. Unlike this summer's crop of free agents, who can land one more massive payday under the current CBA, Howard and other young stars face uncertainty as owners aim to take a substantial bite out of the salaries paid to the highest-earning players.
"Dwight wanted to be represented in the CBA talks," a person close to the Magic center said.
But what Howard was really looking for was an out-of-the-box, full-service and long-term approach to on- and off-court marketing, according to a one of Howard's close advisors. Fegan also is now backed by the international clout and deep pockets of the French media giant Lagardere, which recently bought Fegan's powerful BEST agency and renamed it Lagardere Unlimited.
There is something else going on here, as neither of these ring all that true from where we are sitting.
Fegan did play a role in previous CBA talks, when he was the most powerful agent going, but he is not going to have that kind of pull this time around. His current client lineup is nice, but not THAT nice.
The marketing angle makes less sense. Goodwin's people got Howard a ton of endorsement, including McDonald's and those ubiquitous T-Mobile ads. They worked to help him create a real social media platform to broaden his marketability. Bottom line, Goodwin did a very good job.
Fegan may as well, he's another powerhouse lined up with a powerhouse international firm. But it still feels like a piece of the puzzle is missing from this story.