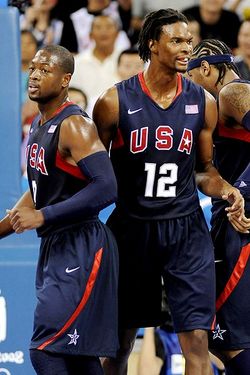 Chris Bosh is not just LeBron James' lap dog, going wherever he goes and doing whatever he says. No sir.
Chris Bosh is his own man. And would go to Miami to be with Dwyane Wade to prove it, so he tells the Miami Herald.
"Miami is in top contention," Bosh said during a quiet moment at DJ Irie's charity golf tournament in Miami Beach. "With the money they have, the cap space they have, the rights on Dwyane [Wade], him possibly staying. And just having a good organization; they are known as a first-class organization. Dwyane is going to be one of the greatest players in the history of the game when it's said and done."
LeBron is the big dog this summer, but Bosh may hold the key to titles and everyone knows it. Wade and James both have tried to win largely on their own for the last couple years, and fell short. They see Kobe getting rings with Pau Gasol and realize they need another stud, one in the paint. And Shaq ain't it anymore.
Bosh is.
Wade could really use him. LeBron may need him. The Knicks could rebuild with him as the man.
And Bosh is sitting there with demand and options. Which is a pretty good place to be.