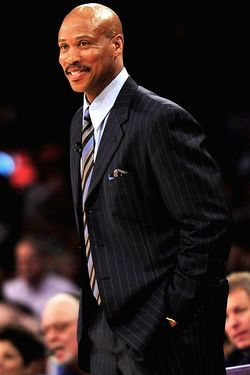 Don't believe what you read.
Because what you read would say Byron Scott is waiting to see what Phil Jackson does about the Lakers job (because Scott has said before he covets that job) and what LeBron James plans to do in Cleveland (because that would be the prudent thing to do). Once he has that information, Scott will move. Or not.
Not true, any of it. That's what Scott told Yahoo's Michael Spears.
Scott said he has not been offered the job, and it's his understanding the Cavs hope to make a decision by Thursday's start of free agency.

"I'm not sitting and waiting on Phil Jackson," Scott said. "That ain't me. I'm not waiting on anybody."

"I would coach there without LeBron," Scott said. "But they got a good shot at getting him back. Without him, they would probably go from 60 wins to 30 wins. But [without James], it's still a better job than when I first started in New Jersey and it's still a better job than when I first started in New Orleans."
The Cavaliers are doing another interview with Lakers assistant coach Brian Shaw today.
Bottom line, Scott wants a job. No reasonable offer will be refused.
But if the process would drag out a few more days so we can see what Phil Jackson is thinking….