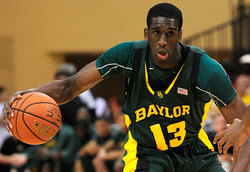 Among the 2010 draft class, there will be stars. There will be successful role players with long, fruitful careers. There will be early risers, late bloomers, movers, shakers, and minimum salary makers. And of course, there will be the busts.
The bust is perhaps the oddest of all draft day phenomena. It's essentially a product of user error; every available prospect is laid out in front of a GM — or owner, or coach, or whoever calls the shots for any particular team — and it's their responsibility to make the right pick. It's a damn near impossible task in some instances, but such is the nature of the draft and the biz. That's fine. No one should expect any decision-maker to live a mistake-free existence, particularly when there are countless subjective criteria built into the process. GMs are going to make mistakes, regardless of their knowledge, talent, and savvy.
Still, the key word is responsibility. If everything goes to hell, managers and coaches are often the ones to start falling on their swords. It's simply the cost of the power that they wield in team-building, and because there are 30 franchises out there vying for the exact same prize, the body count is unsurprisingly high.
The oddity isn't that managers are held accountable for who they select (or don't), but that too often the players themselves are. Expectations are rather high for players selected early in the lottery, so much so that the typical response to their failures is anger and ridicule. That pretty much ignores the fundamental problem: even though some drafted players fail by their own devices, the rest are only put in a position to do so by the managers that chose them. It's not Darko Milicic's fault that the Pistons made him the No. 2 pick in the 2003 draft. It's on Joe Dumars. Or maybe Chad Ford, I get a little fuzzy there.
Either way, there are clear instances in which a player was derailed due to their own destructive behavior or lack of technical improvement. Yet there are so many more where a GM simply failed to determine a player's true talent or worth, and that has little to do with the player themselves. The 2010 Draft seems like it will be as good of an example as any, as some of the class' decent complementary pieces were chosen way too early.
Wesley Johnson is a great place to start. He did well for himself at Syracuse, but is there anything in his repertoire that seriously suggests Johnson could be a game-changing force in the pros? He's athletic, fairly efficient, and does more than score. I get that. Versatility is fun, and Johnson has a lot of the talents you'd love to see in a player. But that schtick doesn't mean he'll be able to thrive against NBA-caliber competition. There's a lot to like about Johnson but not a lot to love, which doesn't bode well for him as the No. 4 overall pick. Wesley is who he is and David Kahn blew it.
Ekpe Udoh's selection by the Warriors at No. 6 is even worse. Udoh won a lot of people over in the NCAA tournament, but nationally televised success does not make one great. Neither does being a 23 year-old without particularly notable production, size, or athleticism. Ekpe would have made for a terrific mid or late first rounder, but instead he'll be derided as a lottery guy who couldn't cut it. It's a shame for a player as endearing as Udoh, but he is who he is and Larry Riley blew it.
I'm sure that both Johnson and Udoh will go on to have moderately successful careers, but they'll always bear the weight of this expectation. There will be a note on every player profile in every program, and on the back of every basketball card (they still make those, don't they?), and it will have nothing to do with them. So thanks for that, Kahn, Riley. What could have been a celebration of two useful, talented players is instead a degradation of their worth and skills, all because of a few itchy trigger fingers.