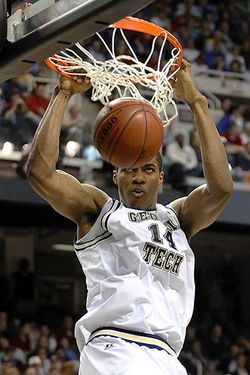 Derrick Favors is going to be good, maybe very good.
Someday. Right now he is a raw rookie who is about to have to refine his game in the rough world of the NBA. It's not an easy transition for the best of them.
Avery Johnson knows this, and told Joe Benigno and Evan Roberts on WFAN in New York that the franchise would be patient with bringing Favors along.
It depends on how fast he moves along, but we're not expecting him to come in and play 38 minutes next year and score 18 points and get 10 rebounds.  That's not what we're expecting.  Kevin Garnett came out of high school basically at the same age of this kid and I know he didn't go to college but they were around the same age… and I think Kevin averaged about 11 points per game his rookie season.

We just want to get him in, get him through his press conference on Tuesday, get him on the court for summer league practice on Wednesday, and we'll have a chance to coach him and get him up to speed on the NBA game.  The game is going to be moving pretty fast for him early on and it's gonna be much more physical than he ever experienced in college.  There's gonna be an adjustment period.  I just don't know how long…."
But Johnson thinks once he does mature — both physically and his game — his ceiling is very, very high.
"I just think he can be a smaller version from a physical and athletic standpoint to Dwight Howard, but have a better jump shot and more of a touch around the basket.  I think he will be able to block shots and rebound and in time be able to move to about 16 feet.  He has a left-handed jump hook, a right-handed jump hook, and he's gonna be craftier.  Just a smaller version of Dwight Howard once he puts on the weight."