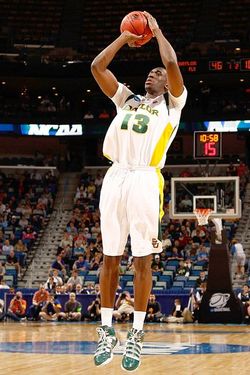 The Warriors made the right pick — Ekpe Udoh was the best player available at No. 6. He is long and athletic and likes to block shots into the third row.
And he's now part of one very crowded, very young and very athletic frontcourt. Look at the lineup: at the four you've got Anthony Randolph and Brandan Wright, plus now Udoh, then there are centers Andris Biedrins and Ronny Turiaf.
If you were the general manager of a team looking for a big man, you'd have to read that last paragraph and think, "Larry Riley and I need to talk trade?"
Riley told the San Francisco Chronicle moves are not out of the question.
"The pick was not made with the intent that we automatically have to trade somebody or that somebody has got to go," general manager Larry Riley said. "It probably does mean some moving around for some players."
Randolph was being shopped around some before the draft, he might be the guy on the move. They'd love to unload Biedrins' contract — four more years, $36 million — but that is going to be a much tougher sell. Going to have to package him with something people really, really want.
Of course, it's hard to make moves with an ownership change about to come, one that could radically shift the makeup of the front office, the coach, they style of play and the kind of players the Warriors want on the roster. But that may not stop them if the Warriors see a deal they like.