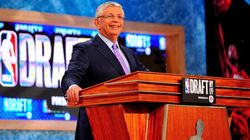 The greatest concern among leading NBA Draft prospects is not a wardrobe malfunction or even having to work for Donald T. Sterling.
No, it's lice.
Because tonight's draft, like most, likely will require a significant amount of re-gifting when it comes to the hats handed to first-round picks by Commissioner David Stern, especially with the NBA's arcane rule about announcing trades of draft choices well after the selections are made.
Yet this year, the hat swaps might have to be done by courier, two weeks after the fact.
If the NBA Draft isn't confusing enough, with its constant reshuffling, the process could be even more confounding this time around, with so much of a focus on the July 1 start of free agency.
Because of the timing of the two events, it is possible that players drafted tonight could have to wait until July 8, the first day free-agent signings are allowed, to learn their true 2010-11 homes.
For example, if a pick is to be packaged with an impending free agent, such a trade cannot be made until July 8.
Take Chicago, for example, and its (as of this writing) No. 17 pick. Say the Bulls try to package that pick with impending free-agent center Brad Miller in some type of sign-and-trade maneuver. Any sign-and-trade involving an impending free agent cannot be made until July 8.
So if Oklahoma State's James Anderson goes up to the podium at No. 17 tonight, he might want to treat that cap received from Stern gingerly. It might have to be shipped back to Chicago in two weeks.
If anything, it is yet another reason why the NBA would be wise to follow the NFL's lead of opening its free-agency period, pausing for the draft, and then continuing free agency.
Yes, it could mean summer league being pushed back a few weeks. But the August heat in Las Vegas is no different from the July heat.
As for the notion that this is the only way to assure that the league can take at least a few months off each offseason, the reality is that this has become a 12-month league. Even this year, there will be plenty of free-agent signings in August and September.
As for tonight, don't believe everything you see on the stage at Madison Square Garden.
This is a process that very well could come with its own built-in two-week tape delay.
Ira Winderman writes regularly for NBCSports.com and covers the Heat and the NBA for the South Florida Sun-Sentinel.