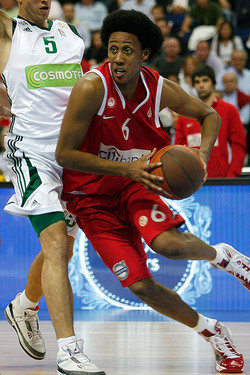 The 'fro may be back.
Two years ago, Josh Childress couldn't get a team to make him a offer, one to compete with what he considered an undersized one from Atlanta. It wasn't because other teams didn't want him — he may have been the best sixth man in the game — but those teams knew Atlanta would just match. Why put in the effort for a player you wouldn't get?
So, Childress got an offer from Olympiakos in Greece and took it. Goodbye Atlanta, hello Athens.
Now Childress has found a partner and is negotiation an offer from the Washington Wizards to return to the NBA, according to several outlets in the Greek media (hat tip to the fantastic Sham Sports for finding this one).
No terms of the deal were released, but the guess would be we're talking at least three years and in the $6 million a year range or higher. Atlanta would have the right to match, and if they think Joe Johnson is going to bolt during free agency they likely would.
Childress is bringing back more than just the best 'fro in the game to the states. His game improved in the past year over in Europe, as his off the ball movement and ability to get his points within the team system there really hit home. Back in the NBA the guy who was a force as the sixth man is ready to be a productive as a starter. He is going to be good for someone.