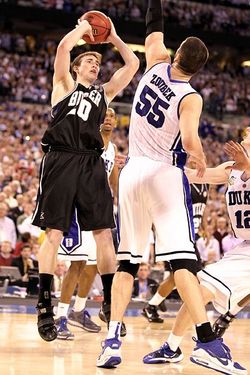 The list is long and infamous: Kwame Brown, Adam Morrison, Darko Milic, Nikoloz Tskitishvili.
There may not be any epic busts of that level in this draft, but there are going to be busts. Somebody is going to disappoint an excited fan base. Who? Here's who we think.
Cole Aldrich: I'm hesitant to put Aldrich on the list because his bust status is more perception than the realty. People around the NBA know what Aldrich is — a big body, role-playing back up big who can take up space. Play him behind someone like Yao Ming for 18 minutes a night, expect 4 points and 6 boards, and you're fine.
But fans want more than four points a night from their new center, expectations are higher for a guy who led Kansas for so long. He has shown enough tempting flashes to excite. He could well come to a city where the fan base expects him to step in and be the man in the middle. Last year if he came out he would have been Top 10 and the hype would have been bigger, and somebody is going to buy into that again. It's not Aldrich's fault. He is what he is. But perception will be that he's a bust even if that is not the reality. –Kurt Helin
Gordon Hayward: What's the model here? Let's get past the race thing. Kid makes a run as part of a Cinderella team in the NCAA tournament from a small school, shows off a series of college elite moves while not displaying much of a pro game, and somehow finds himself in the lottery. When you're staring into the belly of the beast, do you want Justin Bieber on your side? –Matt Moore
Al-Faroq Aminu: I don't think there are any safe picks in this draft outside of the top two. I'll go with Al-Faroq Aminu as a guy I don't see doing much in the NBA. He's a great athlete, but he's a forward who shot 45% in college and isn't much of an outside shooter. He doesn't create plays well enough to be a 3, and he doesn't finish them well enough to be a four.
He'll be a nice enough energy player, but I'm not a fan of these quasi-stretch fours who think that having some perimeter skills is an excuse to drift outside of the paint on offense. If you're an NBA 4 or 5 and aren't a great shooter, get in the paint and stay there. There are likely at least 3 guys on the floor with you who are better playmakers and shooters.  –John Krolik

Wesley Johnson: Wes is a skilled prospect, but is he really worthy of
going in the top five? I have a feeling that if a team took Johnson in
the late lottery or beyond, they'd be just fine with the player he turns
out to be. Yet when a team inevitably stakes a substantial part of
their future in selecting Wesley with one of the draft's top picks, I
have a feeling they'll ultimately be a bit disappointed. He'll be a
perfectly decent NBA player, but selecting him over Derrick Favors or
DeMarcus Cousins — regardless of fit — is ridiculous. –Rob Mahoney