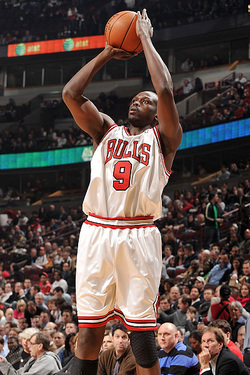 Remember three years ago, when Kobe Bryant demanded to be traded from the Lakers, the team went through the motions of shopping him around and found a decent offer from the Chicago Bulls? That deal didn't go through in part because the Bulls would not put Luol Deng into the package.
Oh, how times have changed.
Now Deng and the No. 17 pick are being offered to the Clippers for the No. 8 pick, according to the Chicago Sun-Times.
Why would the Bulls do it? To free up cap space to bring in a major free agent or two. It's always about free agency with the Bulls.
Deng is due to make $11.3 million this season and is locked in for three years and $39 million beyond that. Plus the No. 17 pick will make $1.3 million this next season. Al-Farouq Aminu, the small forward likely to go at No.8, would command $2.1 million. Bottom line, the Bulls have $10.5 million off their roster (another $6 million or so and they could sign two max free agents).
The real question is do the Clippers want Deng. They need a dynamic wing player and Deng could be that guy. When he wants to be. But usually Deng is pretty happy to launch long jumpers (more than six attempts per game from 16 feet out to the arc last season) and not really rebound much. He is inconsistent — he is fully capable of putting up 20 efficient points and using his length to lock down players on the wing one night, then shooting 7 for 22 the next night and not seem into it on defense. When he drives the basket good things happen, but did we mention the love of the long two?
The Clippers staff needs to determine if Deng is $10.5 million better than the very athletic Aminu. Probably not. But who knows what the Clippers will think on any given situation.