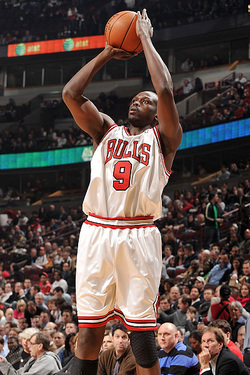 Luol Deng can be yours, if the price is right.    
The Bulls have already cleared out a lot of cap space if the Kirk Hinrich trade goes through (meaning unless Washington sobers up) but they would still like to move Deng and are shopping him around.
One rumor now in few places was Deng going to the Orlando Magic for Martin Gortat and Mikhail Petrius.
This deal may not be likely. You can be sure the Bulls would take that deal in a second. You get the feeling right now they'd trade Deng for one of the kids with the mops who runs out during games to wipe up sweat. Anything to get out from under that deal.
For the Magic, it's about finding a way to win a title. Does Deng give you that? Well, if Stan Van Gundy has a magical elixir that gets Deng to play up to his potential, with real energy, every night, then yes. But if you don't believe in magical potions, this trade is sort of a wash in talent.
And the Magic are locked in to Deng for a four years at $51 million. So it doesn't make a lot of sense.