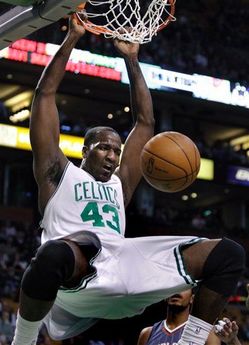 The Celtics have a young star point guard paired with a front line ready to star in a remake of Cocoon. Boston knows that long term it needs to get younger. Boston also knows there are some quality big men up at the top of the draft that fit their needs.
So the Celtics have dangled Kendrick Perkins and their No. 19 pick to move way up in the draft, according to Sam Amick at Fanhouse.
Perkins is an expiring $4.4 million contract and a guy about to have offseason knee surgery. He's also a solid big man in the middle who can defend and rebound and be the anchor a lot of teams could use.
But would you give up a potential future star big man for Kendrick Perkins and the No. 19 pick? Not if you're building for the future you're not. Nor if you are sane.