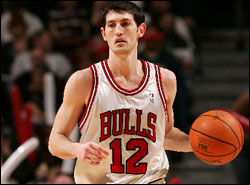 UPDATE 5:25 pm:
This trade has now been confirmed by multiple sources. David Aldridge at NBA.com
has some reasoning
on why the Wizards would do this deal:
The Wizards have coveted the 29-year-old Hinrich for several seasons,
wanting his veteran presence in their backcourt and his ability to play
both guard spots. Besides his on-court skill Washington believes that
Hinrich can be a solid mentor for John Wall, whom the Wizards will take
with the first pick in tonight's NBA Draft.
The Wizards also would have some flexibility on how to set up the back court (Hinrich can play the two or the three). They also now have three first round picks: 1, 17 and 30.
And all of that is still not worth the $20 million and lack of flexibility they gave up for next summer.
3:09 pm: Ric Bucher of ESPN The Magazine is reporting that the Washington Wizards and Chicago Bulls have agreed in principle to a relatively small trade with huge implications. 
Hinrich was once an extremely promising young combo guard capable of making an impact on both ends of the floor, but the 29-year old's production has fallen off dramatically over the past few seasons. Unless Washington is in love with someone who will be available at 17, this trade doesn't make a whole lot of sense for them — Hinrich eats into their cap space for the next two seasons, and by day's end they'll have John Wall and Gilbert Arenas under contract as well. Oh, and the Wizards agreed to pay $3 million in cash as part of the deal.
For Chicago, this trade would be an absolute home run. Clearing Hinrich's salary would give the Bulls close to $30 million in cap space, meaning they would have just about enough money to make a run at two max or near-max free agents. (Chicago may need to move
a player like James Johnson
to free up enough space to pay two players the full max.) That means Chicago would have the space to sign Chris Bosh and LeBron James without needing to find a taker for Luol Deng's contract or giving up Joakim Noah in a potential sign-and-trade with the Raptors.
The Bulls, without needing to give up one other player on their roster, could have Derrick Rose, Luol Deng, LeBron James, Chris Bosh, and Joakim Noah under contract next season. With Tom Thibodeau after the coach. That should be a frightening thought for the rest of the league.
This deal has not been made official, and cannot technically be made until July 8th, so nothing is confirmed yet. However, if it is true, the implications are undeniable: 26 years after the draft day when Chicago got Michael Jordan, the Bulls may have just made the first step towards another dynasty.