I know John Wall has already been penciled in as the No. 1 pick in the draft. Then his name was written in pen, and probably in permanent marker. Well, it's finally time to etch Wall's name in stone and trace it with blood. Nothing is more certain on draft night, and barring a catastrophe of historical proportions, Wall will be a Washington Wizard.
It's apparently so certain that the NBA wasn't shy about selling official John Wall/Wizards gear at the draft itself. Here's a photo of the league-endorsed Wall shirt being sold at the draft, courtesy of Dan Steinberg of D.C. Sports Bog: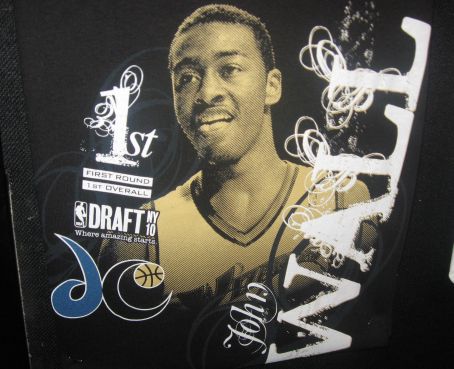 I will be immensely pleased if this is just the biggest "Gotcha!" of all time. After the Wiz agreed to take on Kirk Hinrich's contract and do the Bulls an incredible favor for the hell of it, I wouldn't put it past them. For every good move the Wizards make, they push their fans' patience with another.
But none of that matters! John Wall! Yeah!