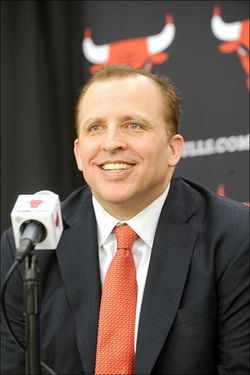 There was nothing earth shattering from Tom Thibodeau's first appearance as the Chicago Bulls head coach. He didn't come out and say Michael Jordan was an overrated player, or he prefers New York style thin-crust pizza, or profess his love for the Green Bay Packers. There were no cardinal sins of Chicago etiquette.
What Thibodeau did was try to start selling the team on himself. And started selling what he is bringing to free agents. Nothing shocking there either, but he did seem to set a tone with his comments.
"There are five things I think we have to establish right away in terms of who we are. We're going to be a defensive team, a rebounding team, a low turnover team, an inside-out team, and an unselfish team. I think that has to be clear and we're going to establish that right from the start.
"Secondly, you have to build championship habits from the start," he added. "How you practice and prepare yourself, whether it's in the weight room, practice court or off the court, I think you should conduct yourself in a certain manner. Being part of this organization is very special and you have to take it seriously."
Who the Bulls really are will be determined after free agency. But a tone of professionalism and attention to detail that can build the foundation of a winner has got to be in place to coax the most out of whoever comes in. On that, Thibodeau has talked a good game. We'll see how he executes it this fall.