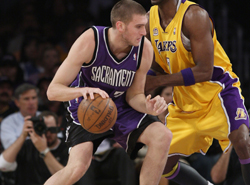 Right now, everything is good between Spencer Hawes and Philadelphia. The management there, his teammates, the fans are all good with him.
It was that way in Sacramento for a long time. He was to be the future. Hawes and the fans loved each other. But that soured. He can drain threes (at a 30 percent clip last season) but seemed to be a 7'1″ guy floating on the wings. Some days he was blocking shots and grabbing boards, but many other nights he was not.
There was never the improvement one expects out of a young player, he just seemed the same.
Hawes wants that to be different next year, he told the Philadelphia Inquirer.
"I have been focusing on this summer, kind of getting stronger, trying to get back down to the post," said the 7-foot-1 center, who along with combo forward Andres Nocioni was acquired by the Sixers in a trade for Samuel Dalembert on Thursday.

"Coming in as a 19- and 20-year-old, I didn't necessarily have the strength to be able to hold my own as much down there" in the NBA, said Hawes, who has bulked up 15 pounds to 245 during his three-year career.

"Now having grown up a little bit, I think that's something I'm getting to be more effective at. I would like to try to reestablish that as a strong suit."
Where Hawes really needs to step up is on defense — he is not that impressive, particularly if you got him moving on things like pick-and-rolls. He comes in for Samuel Dalembert, who is a good defender, and will play for a coach in Collins who will put the emphasis on that end of the floor. Hawes will defend or see less of the floor, it's that simple.
But it's a new chance. A second chance. But if he doesn't step up, he will find the fans in Philly not as forgiving as the ones in SacTown.