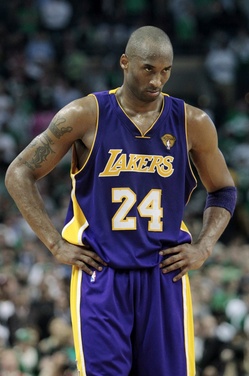 Ron Harper has perspective. He was on the Bulls during their heyday for three titles. He was on the Lakers for the first two titles of the Kobe/Shaq era. Through it all he was like a coach on the floor.
And he told FanHouse Jordan remains the best, but don't think the gap is very wide.
"I tell people that they are two great, great players, and Michael remains the best of all time, but Kobe now is right there next to him. He's standing right next to him. He's the closest thing we've ever had to Jordan. There is no one else even in the ballpark," Harper told FanHouse Tuesday from his home in New Jersey. "Kobe is hands down the best player in the game today."

"Michael still gets the edge because of when he played, and who he played against, but don't take anything away from Kobe," Harper said. "Michael played when the rules allowed all the grabbing, holding and bumping that isn't allowed now on the perimeter. He also played against [Clyde] Drexler, [Joe] Dumars and guys like that every night. But after saying that, Kobe still would have been a star in that time."
Harper goes on to make an interesting note about team play — the Bulls had it, the Lakers have it now. That is not just the triangle and Phil Jackson, it is a management buying into the system, it is players being willing to accept roles to win.
Look at the teams in the finals this year — the Lakers and Celtics played more like a unit than any others. They had continuity of players and system. Management went and got players to fit the system, and once in the culture players outside it bend to its will. You see the same thing in Phoenix right now. Orlando has a system. It's not a coincidence they are the four left standing at the end.
This is not a slap at modern players — there were plenty of teams and guys out for themselves in the 70s, 80s and beyond. The point is that teams win.
Of course, it really helps when Kobe or MJ are on those teams.