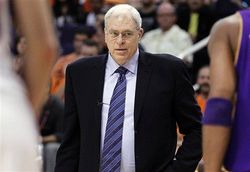 Just a few minutes before, Kobe Bryant had refused to even discuss the idea of Phil Jackson retiring, calling it a "buzz kill." Earlier still Derek Fisher wondered if he would come back if Jackson did not.
But right now, Phil Jackson is considering stepping away, which is what he told the media after conducting a series of exit interviews with players. Check out the quotes, via Mike Trudell at Lakers.com.
"I'm leaning towards retiring but I haven't made up my mind yet."

"Some of it is about health. That's just the way I'm feeling right now. It's just something I'm going to sit with."

"This team is in a good place to (win again). If I'm not here, someone else is going to come in and do the job."

"I have to sit on it and do the right thing for myself. I wouldn't say that I'm 95% or 50% sure. This is what I feel right now."
Jackson said he was going to get more medical tests, then make a decision next week.
The Lakers would have big decisions to make if Jackson steps away. Starting with: Do they step away from the triangle and bring in a coach like Byron Scott, or do they try to keep things basically the same and promote Brian Shaw? If they make a change in style, they will need to shake up some of a roster built to run the triangle.
And that scream you just heard, that was Kurt Rambis realizing if he had stayed one more year he could have coached the Lakers and not the Timberwolves.