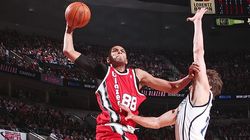 The Trail Blazers are very high on Nicolas Batum, the French player they are convinced can become the defensive stopper on the perimeter every team needs. Batum said after his exit interviews his goal is to be first team all NBA Defense next year.
How high are the Blazers on him? That they rejected the No. 4 overall pick from the Timberwolves for him, according to ESPN's Chad Ford.
Batum had a very good +/- last season of +4.5 per 48 (meaning when he was on the floor they outscored their opponents by +4.5 points per game). His offensive game showed a lot of improvement last season and on the other side he was tough on opposing threes and the occasional two such as Kobe Bryant.
You need a wing defender to really advance in the playoffs. They don't need a rookie big learning on the go. The Blazers seem to understand how to handle their roster a lot better than how to handle their general managers.