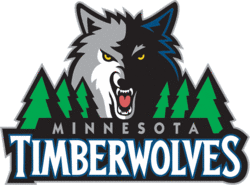 The Minnesota Timberwolves have two things that do not mesh — a coach brought in to run the triangle offense, and a roster poorly suited to run it.
So it looks like the Timberwolves are considering anything and everything to change shake up the roster. Just look at the laundry list of things Yahoo's Adrian Wojnarowski says the Wolves are considering.
…the Wolves had planned to select (Syracuse small forward Wesley) Johnson at No. 4, and yet the New Jersey Nets are holding serious discussions about drafting the small forward and taking their chances with trying to sign a power forward in free agency. The Nets had long favored Derrick Favors, but are debating now about how long it will take for him to become a regular contributor. New Jersey is still contemplating DeMarcus Cousins, too.
Or, the Wolves might just trade the pick all together, but probably not.
Kahn has tried to assure agents he's going to move (Al) Jefferson before the season, but it won't be long until he realizes how little value his power forward has with such an expensive contract and a reconstructed knee. The Wolves have two power forwards, Jefferson and Kevin Love(notes), who don't complement each other, and no center.

Minnesota wants Memphis' Rudy Gay in free agency, but sources say the only way Gay will even consider the Wolves is if they massively overpay him. That's why the Wolves were so determined to draft Johnson and why they have to be terrified that he could be gone at No. 4.

The Wolves are also willing to move point guard Jonny Flynn, and have discussed a deal with the Indiana Pacers, sources said. The Wolves are willing to part with the 16th and 23rd picks as part of a bigger package to move up to No. 10. This way, the Wolves could possibly gain the leverage to make a deal with Philadelphia to secure the No. 2 pick and grab Ohio State's Evan Turner.
Wow, that's a lot to take in.
Moving Flynn makes some sense — he is a quality point guard with value around the league, but a poor fit for the triangle. There are inexpensive veterans on the market the Wolves could get to fill that role (even Derek Fisher is a free agent).
Somebody is going to massively overpay for Rudy Gay, it could be the Wolves. But if not them, someone.
As for who to draft, are the Wolves looking at getting the best player or the one who fits the need the most? Johnson should be a quality pro, but is he going to be a better player in three years than Cousins or even Greg Monroe? That is what the Wolves need to ask themselves — what they need is more and better talent, regardless of position. They are a long ways away, get the best players today then figure out how to make them fit.