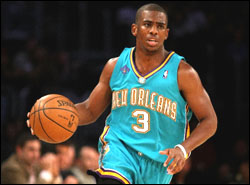 UPDATE 4:42 pm: The Magic's offer to get Chris Paul out of New Orleans had to at least make the Hornets pause — Jameer Nelson and Vince Carter for CP3 and James Posey.
That according to FanHouse's Tim Potvik. That deal would save the Hornets money long term — this is the last year of Carter's deal — and net them a pretty good player in Nelson.
However, nobody thinks the Hornets are interested. New Orleans has not been for several years now as offers have flowed in before for Paul. Nothing has changed, they say.
8:37 am: LeBron who? Suddenly it is Chris Paul mania in the NBA. Everybody wants to trade for him, since reports surfaced that he is available.
As evidenced, there is the report from Sam Amick at FanHouse that the Orlando Magic have inquired about Paul's availability from the Hornets. The Daily News reports both the Nets and Knicks have interest, with the Nets even making an offer.
A few quick thoughts. First, calls like this are made all the time in the NBA. Teams call around all the time and ask about this player or that, guys who may well not be available. You need to upgrade at the point you call a team like the Hornets, where talks have apparently stalled to bring in new owner Gary Chouest — it doesn't take this long to finalize a deal — and the old owner may want to cut more salary. You don't know who is really available unless you ask, so teams ask. A lot more than you think.
(By the way, if you were a crafty owner looking to sell your team like
George Shinn, but you couldn't get the new owner to take on as much debt
as you like, would leaking a rumor though a reliable source that Chris
Paul is on the block be a smart move to speed the process along? It
might well be.)
Second, I know what World Wide Wes is saying, but it really makes little sense for the Hornets to part with Chris Paul. Yes, he had some injuries and played just 45 games last year. Yes he makes nearly $15 million this year and $16.3 million next year (with a player option after that), and the Hornets are not a high revenue franchise and the sale talks have stalled. But Paul is the best point guard in the NBA and a guy who is at the heart of the Hornets marketing efforts. Chris Paul sells tickets and wins games. What he makes is a fair price for him (in the inflated NBA-realm of what is fair) and the Hornets would never get real value back.
Next, is it really any shock the Nets or Knicks would be interested? These are two teams looking for a big start to rebuild around and Paul would fit the bill. The Daily News reports that the Nets offered Devin Harris and the No. 3 pick in the draft for Paul, but were shot down.
Finally, the most interesting part of this may be Orlando's interest. This shows Orlando is thinking the Jameer Nelson/Dwight Howard combo many not be the answer, and if they have to make changes it is not Howard that has to go.
Point guard was actually the weakest position statistically on the Magic last year, for example look at PER generated and PER against (not a perfect measure, but one that gives you some idea). Jason Williams coming off the bench was part of that issue, but it was also with Nelson. Nelson was just a +1.5 per 48 minutes on the court this season, a number well below Howard (+10.8) or even Vince Carter (+6.9). Simply, the Magic were not that much better than their opponents with the shoot-first point guard Nelson at the helm.
The Magic may have their eye on a more traditional point guard. Jameer Nelson is actually pretty movable making $8.1 million per year for two more years.
However, finding someone better than will not be that easy — he brings a lot to the table and Orlando would miss his scoring. This may have been just a one-time shot in the dark to ask about Paul. Or, it may be part of a plan we see unfold over the summer.