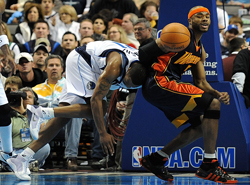 This trade makes sense for both teams, albeit in different ways. For the Warriors, this was a cost-cutting move; Maggette is owed $11 Million in the 2012/13 season, and the Warriors have not had enough success to justify paying a player of Maggette's caliber an eight-digit salary for three more seasons. 
Another reason this deal makes sense for the Warriors is that Brandon Wright and Anthony Randolph will both (hopefully) be coming back healthy next season. Both of them are power forwards, on their rookie contracts, and have shown tremendous promise when healthy. Maggette played most of his minutes at the 4 spot last season; paying him such a big salary to potentially block Randolph and Wright's development makes little sense for the Warriors. Undrafted rookie Reggie Williams also came on strong for the Warriors at the end of last season, and Williams is only owed $762,195 next season. 
For the Bucks, this move effectively replaces John Salmons, who will be a free agent this summer. Maggette is far from a complete player, but he is a wing player who knows how to put the ball in the basket. Maggette was a bright spot for the Warriors last season, averaging 19.8 points per game and posting the highest PER of his career. 
Historically, Maggette has been a much more efficient scorer than Salmons; Maggette's True Shooting was 61.5% last year, and his career TS% is 57.7%; Salmons' TS% last season was 55.3%, and his career TS% is 54.8%. 
How Maggette will fit into Milwaukee's offense is a question mark at this point. Maggette excels at getting the ball in isolation and driving to the basket, and few players in the NBA are better than Maggette at drawing contact. If Skiles uses Maggette to get opposing teams in the bonus early in quarters, he could make Andrew Bogut's life significantly easier on the low block. 
Maggette's downside is that he doesn't play particularly well with others; he's not nearly the outside shooter that Salmons was, and he doesn't do much without the ball in his hands. If Maggette isn't directly involved in the offense, it's very possible that Jennings and Bogut might have less spacing when they run the pick-and-roll. 
Maggette's salary and the holes in his game make this a risky trade for the Bucks. But with Salmons likely gone, Maggette coming off a great year, and the Bucks on the cusp of contention, it was probably a risk worth taking.