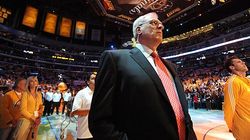 Here's the best part — we're all going to know what Phil Jackson wants to do by the end of the week. Come back to the Lakers or stay on his ranch in Montana.
But nobody knows what he is going to do. Apparently not even his family, although they think he may be done, as his daughter Chelsea told Sports Illustrated (in a fantastic bit of sports writing by Lee Jenkins that you really should read, just to learn more about Jackson).
"I think this is it," Chelsea says. "I think he's done now."
His family knows one side of him. His Lakers family knows another, and everyone there is of the impression that if the doctor gives the okay he will be back.
Phil Jackson is too complex to predict simply. He clearly has something in mind, he is making a quick decision this year not dragging it out. He missed the parade Monday to go to the doctor and have tests done.
We'll all know soon what he is thinking. But anything beyond that is speculation.