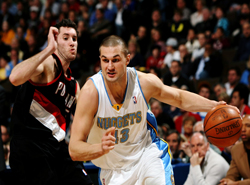 The Denver Nuggets have extended a qualifying offer to Linas Kleiza — something they have to do to keep his rights, but if he accepts he could return to the Rocky Mountains.
Whether or not the Nuggets want him back, he likes the life in Greece on a championship team better and is not coming back, his agent told the Denver Post.
"We have no plans to sign with the Nuggets, nor have they expressed interest in signing Linas at this point," he said.
Kleiza averaged 17.1 points per game and was the leading scorer on an Olympiakos that has been to the Greek and EuroLeague finals in the same season. They win a lot. Oh, and he gets to live in Greece. Life is good.
Denver's offer is being portrayed as the team trying to get him back, but in reality they cannot expect him to return. However, they need to make an offer to retain his rights (much as Atlanta has had to do the last couple of years with Josh Childress). You don't give up rights for nothing. So the business move of the offer is in, but don't expect Kleiza to return to America.