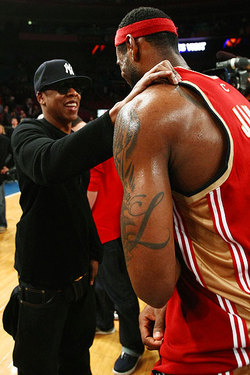 Free agency has a price. Freedom to choose has a price. Everything has a price. Welcome to capitalism.
LeBron James wants his freedom. He wants to be a free agent and be wooed by the city of Chicago and have Jay-Z perform "New York" to him in person. But Brian Windhorst notes in the Cleveland Plain Dealer the price for this adulation starts at $2 million.
If James goes ahead and becomes a free agent it will cost him more than $2 million in salary over the next three years alone — even if he re-signs with the Cavs. It could cost him up to $4 million over the next three seasons if he decides to sign with another team….

If James were to pick up his option with the Cavs for next season, the deadline for which is June 30, he would earn $17.1 million. If he lets that contract end and re-starts after July 1, he's likely to make about $16.5 million.

Over the long term, this gulf only widens when the yearly salaries are compared. If James were sign an extension to his current contract June 30, he would make nearly $19 million in the 2011-12 season. If he lets it expire and then signs a new contract with the Cavs, he'd make about $800,000 less that season.
The same is true of Dwyane Wade and Chris Bosh, they are a paying a price to be a free agent. It may not seem like a steep price to you, $2 million out of  around $51 million in three years. But that is still money left on the table. Especially if James signs with Cleveland after all (which is still the smart bet).
But hey, being wined and dined by celebrities in New York is a lot of fun, who can put a price tag on that?