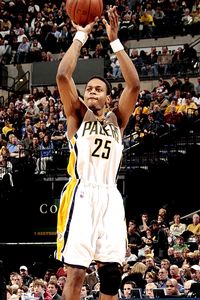 Whenever there is a Indiana Pacers trade rumor — for Tony Parker, for Jonny Flynn, basically for any point guard good at running the break in the NBA — Brandon Rush's name comes up.
In his second season, Rush looked at times like a guy starting to figure it out. A little. He certainly can shoot the three, 41 percent last season, but his midrange game is spotty, he shot under 50 percent at the rim and rarely attacks it anyway, meaning he does not get fouled often. But he is evolving, figuring out how to fit his game into the league..
And that is why Larry Bird does not want to trade him, he told Mike Wells of the Indianapolis Star.
"I just hate to give up on a young player too soon"
Kind of depends on what you're getting back, doesn't it?
Rush is improving and could be good in a couple years — not All-Star good, but good. Guys who can shoot the rock always have a place in the league, the question is how much he can develop the rest of his game.
That said, if you are getting quality back, you make the trade. Young or not.