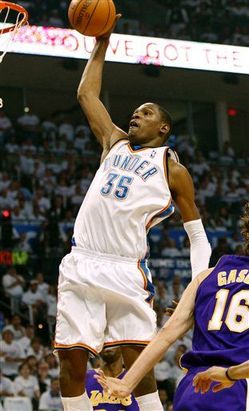 Kevin Durant can technically become a free agent after next season, but it looks like Durant wants to avoid all of that drama. 
Durant is eligible to begin negotiating his first contract extension with the Thunder on July 1st. According to the Oklahoman's Darnell Mayberry, Durant is fully expecting that the
contract extension process will go smoothly
: 
"I'm expecting to get something done," Durant told The Oklahoman when asked about his expectations for his first contact negotiation, which can begin in earnest at midnight Eastern on July 1. "Hopefully I'll have a deal done and something set."
Oklahoma City isn't the biggest market, and there's no guarantee that players like Jeff Green, Russell Westbrook, and James Harden will make the kind of leaps Durant made in his 2nd and 3rd year in the league. If they don't, it could be a while until the Thunder become serious title contenders — and that's assuming Oklahoma City will be able to re-sign all those players when their rookie deals run out. 
Still, Durant seems to have made up his mind that Oklahoma City is his home, and the Thunder are the team he wants to play basketball. There's a lot to be said for that. As long as they have Durant, the Thunder will have a great chance to win any game, as well as a young man who defines "franchise player" in every sense of the word.