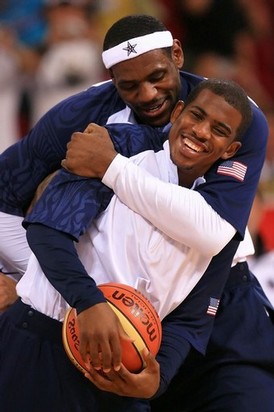 Well, this is certainly interesting. According to Adrian Wojnarowski of Yahoo! Sports, NBA man of mystery William Wesley has been going around telling teams that if they manage to pull off a trade for Chris Paul this off-season, their
chances of signing LeBron James will dramatically increase
. 
Of course, one needs not be an NBA man of mystery to know this; of course featuring one of the three best point guards in the NBA would dramatically increase any team's chances of landing James. 
Hornets general manager Jeff Bower reportedly has no interest in trading Paul, who still has two years left on his contract. But with the Hornets in a dire cap situation, owner George Shinn looking to cut costs, and Darren Collison emerging as a serviceable replacement for Paul, there is a feeling around the league that the Hornets could part with Paul if a team makes them a monster offer. 
The offer would likely have to give the Hornets significant upgrades at two positions, one All-Star or future All-Star caliber player, and help the Hornets' cap situation out, but this is a chance to grab a player with a real chance at being one of the best point guards ever. 
James and Paul are very close friends, and the idea of them playing together is a powerful one. However, Wesley's gambit is a bit too transparent to see this working out. My apologies for having watched some of Season 3 of The Wire last night, but Wesley is playing rain-maker here. Wesley is "generating interest" in Chris Paul. If Chris Paul is available, of course there's going to be significant interest in Chris Paul. If a team has Chris Paul and the cap space to sign LeBron, of course they would become the prohibitive favorites to sign LeBron. 
Whether those things will actually happen is as unpredictable and unstoppable as whether or not the rain will come. What Wesley is trying to do is set things up so that if the rain does come and a team trades for Paul, Wesley can take credit for it happening in order to entice Paul to sign with his company. 
LeBron and Chris Paul playing together is certainly a fascinating possibility to dream about, but I don't realistically see it happening. And if it does happen, it certainly won't be because William Wesley opened teams' eyes to the fact that Chris Paul is very good and LeBron James would like to play with him.