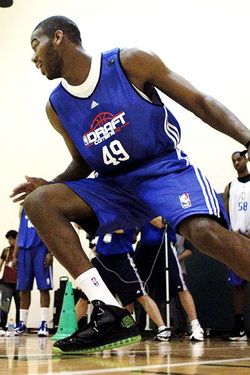 Looks like the Warriors are leaning toward drafting a big man.
Yesterday Georgetown center Greg Monroe can through town for workouts, and Don Nelson liked what he saw. At least that's what he told the San Jose Mercury News.
"The one thing we can use that he does extremely well, probably better than any other big man in the country, is pass the ball," Nelson said. "And (he's) young enough yet that he can still develop."
Monroe's skill set on offense of passing the ball, being a smart player and having the ability to face up or make plays in a traditional back-to-the-basket way would make him valuable in Golden State right now. He's versatile, which fits with what Nelson wants in a big man. His defense is questionable, but right now you can say that about most of the Warriors' roster.
It appears the Warriors will have one of two big men fall to them at No. 6 — Monroe or Kentucky's DeMarcus Cousins. Either would be a considerable upgrade to a front line that was banged up and not particularly good last year.
Of course, the fact there could be a new owner and a new coach by the start of next season make the entire exercise a question mark. But whoever is the coach it's not like they would turn down a quality big man.