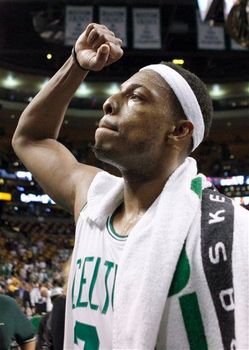 Paul Pierce has almost all there is to do in Boston. In 12 years with the Celtics, Pierce has been an All-Star many times. He's won a Finals MVP award. He was with the team during the bad times and during its highest moment in recent years. He had both Kevin Garnett and Antoine Walker as running mates, and he made it work with both. In Boston, he is the Captain and The Truth. 
There could be another member of the Big Three on the market, too. Pierce has a player option for $21.5 million next season. But with the collective bargaining agreement set to expire next summer and a new one expected to significantly reduce player salaries, several prominent players (including Dirk Nowitzki and Amar'e Stoudemire) are planning to opt out of lucrative contracts in order to sign new deals under the existing agreement. Pierce, 32, could leave the $21.5 million on the table with the expectation that he could score a contract worth $50 million to $60 million in the offseason.
At first blush, Pierce leaving the Celtics seems as likely as Boston erecting a Wilt Chamberlain statue outside of The Garden. Pierce and Co. came agonizingly close to a championship this season, Boston loves him, and he's been with the team for over a decade. And 21 million dollars is a lot of money to leave on the table. 
But think about it for a second. Boston was able to make an incredible run in this year's playoffs, but they looked downright old for most of the regular season. Outside of Rajon Rondo, the team is not getting any younger. Tom Thibodeau is gone, and Doc Rivers and Ray Allen may follow. 
If Pierce does leave Boston, where would he go? New York seems unlikely, especially since he plays the same position as the best young player the Knicks have under contract. New Jersey/Brooklyn could be a possibility, but that team is a long-term project at best. Minnesota and Washington seem like long shots. Chicago and Miami have their eyes set on bigger prizes. Sacramento would give the chance for Pierce to mentor Tyreke Evans, Carl Landry, Omri Casspi, Jason Thompson, Donte Greene, and the rest of the Kings' young core, but Sacramento might be a bit far from the spotlight for Pierce's liking.
The Clippers are an intriguing possibility. Baron Davis, Eric Gordon, Paul Pierce, Blake Griffin, and Chris Kaman would be a heck of a starting lineup. The Clippers have a top-10 pick in the upcoming draft. Not only would the Clippers give Pierce the opportunity to play in a big market, but Los Angeles also happens to be Pierce's hometown. (Besides, Clipper fans wouldn't have lingering animosity towards Pierce, as Clipper fans are most assuredly not Laker fans.) The Clippers are a young team with a lot of talent, and Pierce's basketball IQ, championship experience, and ability to control an offense are all qualities that could help the Clippers tremendously. 
Pierce probably won't end up becoming a Clipper — not many players jump ship from the most successful franchise in NBA history to perhaps the least successful franchise in NBA history. And the Clippers themselves may be wary of signing Pierce after how poorly the whole "Baron Davis comes to the Clippers to save his hometown team" thing worked out. Still, it is something that both sides may want to ponder.