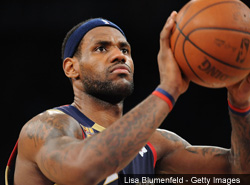 From Los Angeles to New York City, fans of teams with cap space from all around the country are mounting guerilla movements to entice LeBron James. Fans are practically pledging everything from their eternal fandom to their first-born children as payment for James' services, and they're holding parades, rallies, and animal sacrifices (just guessing on that one) in his honor. He is the MVP, and he is to be worshiped.
Yesterday, James finally appeared at one such event. It wasn't in New York, even if he'd soak up Madison Square Garden's bright lights. It wasn't in Chicago, even if he would write the next chapter in the Bulls tradition. It wasn't in L.A., where James would battle Kobe Bryant for supremacy within the city limits. It was in Akron, Ohio, where LeBron would come out to thank all of his fans who showed up for "LeBron Appreciation Day"/"LeBron Pretty Please Don't Leave Cleveland Day."
From the Associated Press:
With thousands of his hometown fans
on hand, LeBron James made a dramatic — and very late — appearance at
"LeBron Appreciation Day." A crowd estimated at 3,500 had already begun to depart
Akron's InfCision Stadium on Saturday when James walked through a side
entrance and made his way down to the playing field. Hundreds of fans rushed back inside as James was presented
with a crystal trophy, which had already been placed back inside a box before
his surprise appearance. After a few words, the two-time MVP then left the
stadium as quickly as he entered.

James was being honored not far from where he grew up in a
city he affectionately calls home. Fans were on hand in an effort to convince
the soon-to-be free agent not to leave the Cleveland Cavaliers.
Obviously the locale was convenient for a LeBron drop-by, as the InfCision Stadium is probably about half-way between James' place and the nearest Chili's or something. But the fact that he stopped by isn't meaningless, just as it isn't some grand indication that he's ready to put on that Cavaliers cap for signing day. Maybe LeBron just showed up for the free pub, but he still showed up.