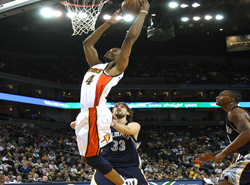 Anthony Randolph has been rumored to be on the Warriors' trading block from pretty much the very second he arrived in Oakland. Even if the jury's still out on whether or not an actualized Randolph is a realistic possibility, his combination of athleticism and skills would make him an appealing prospect to just about any team in the league.
To make the rumors even more juicy, Randolph's relationship with Don Nelson and the Warriors organization have always seemed a bit…off. It's an easy thing to say from the outside looking in, but between inconsistent playing time, injuries, and outright benchings that favored inferior players, Anthony's status as a Warrior has always appeared fluid. The most recent rumors had Randolph going to the Timberwolves, but those are simply the latest in a long list of possible deals and destinations.
However, according to Rusty Simmons of the San Francisco Chronicle, Larry Riley, GM of the Warriors, isn't looking to trade Randolph, despite what the rumor mill would have you believe:
Drafting another power forward, however, shouldn't insinuate that the Warriors are trying to deal Anthony Randolph. "I told him Monday, 'I'm not trading you unless there is a heck of a player on the other side of the deal. You're not going anywhere,' " Riley said. Randolph's name has frequently come up in possible trades with Minnesota this summer, and he was a mainstay on the rumor mill at the February trade deadline.

"I really am not looking to trade him," Riley said. "I am not in search of trading Anthony Randolph, and I'm not shopping him…This is the year we'll make a lot of determinations on him, and he'll make a determination on his career. There is huge upside there, and I would hate to walk away from that."
Obviously that doesn't mean Randolph won't be traded, and the "heck of a player" caveat is malleable enough to justify a number of acquisitions. Still, Riley's refute does count for something, even if it's just sound PR.