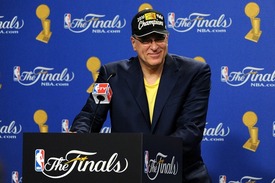 After winning his 11th NBA championship on Thursday night, Lakers coach Phil Jackson sat down with ESPN's Hannah Storm
to discuss his future plans
. 
This was the final year of Jackson's contract with the Lakers, which paid him approximately $12 million a season. (He reportedly also received a $2 million bonus for leading the Lakers to a second straight title.) It is widely believed that Lakers owner Jerry Buss would want Jackson to take a pay cut in order to return to Los Angeles. 
Jackson told Ms. Storm that he is trying to decide whether to retire or return to the Lakers, citing some medical problems as a possible reason for his departure from coaching. When asked about the possibility of coaching another team, Jackson said that he has not "entertained that as of yet," and has not been approached with anything "specific." He then said he could not "answer the question directly." 
It is widely believed that Dan Gilbert, the billionaire owner of the Cleveland Cavaliers, would be willing to pay Jackson an exorbitant sum to coach Cleveland next season. Whether that pay increase and the possible allure of getting Michael Jordan, Kobe Bryant, and LeBron James their first NBA championships would be enough to get Jackson to leave his home, the team he's won five championships with, and his girlfriend Jeannie Buss remains to be seen. Jackson has come close to guaranteeing he will not coach another team next season, but has hinted that a change of franchises is a small possibility on a few occasions. Personally, I would be shocked if Phil coached another team next season, but I've given up on trying to out-guess the Zen Master. 
According to Jackson, he wants to decide on his future plans very quickly, and told Storm that he will make some decisions about his future before June 27th. The 27th, of course, is several days before June 1st, the first day the 2010 free agents can sign with other teams.