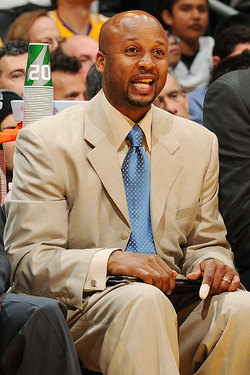 After the game, a relaxed Lakers assistant Brian Shaw was talking to reporters about what it is like to coach in an this but intense game like Game 7.
"You just want to stick with what you know and what you been preaching all year long. We kept on saying that we're playing into their hands, because the ball wasn't moving. And their defense is set up to stop a team's first option. Not just a first option like Kobe (Bryant), but like if you come down and make like one pass and try to attack, they're not going to let you beat them that way. And we were like just banging our heads against the wall offensively just trying to do that, trying to do that.
"And I think the team was shook, for lack of a better word, because they had never seen Kobe struggle like that in a game of this magnitude. Like I said, Kobe is the MVP of the series but tonight Ron Artest is the MVP of tonight's game.
"And there was different stretches during the game where different players on the team saved us. Fish's three, Ron's defense… Kobe had to trust some other people to do things, and they came through."