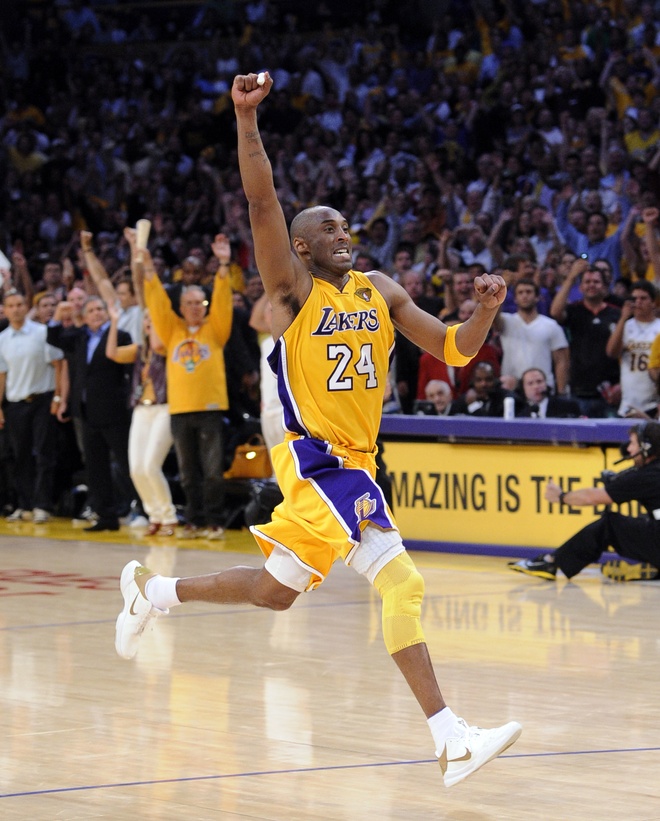 That's one for the thumb. 
Kobe Bryant won his fifth title in 2009-2010, nesting a clutch jumper and a series of icing free throws. The storybook ending was written, with Bryant further cementing his legacy as one of the truly great players in NBA history. His veteran leadership and indomitable will to win is second to none and tonight he proved that, finishing with 23 points and 15 rebounds. It was another season, another championship, in his long line of jewels in the crown of his career. 
Well, that's one way of looking at it. How about this?
Kobe Bryant won his fifth title in 2009-2010, despite shooting 6 of 24 from the field, routinely taking shots out of the flow of the offense, and generally failing to deliver in the most important game of his career. Luckily for him, his teammates who were so often derided for their contributions,  stepped in to cover for him and delivered him his fifth title. Bryant had four turnovers, routinely dribbling into double coverage and failing to deliver as he heaved shot after shot in double to triple coverage. While Bryant clearly has his place among the legends, this performance even more clearly elucidates the difference between Kobe and Jordan.
No, that's not right either. No, here's the real story. 
Kobe Bryant once again collected an NBA championship ring behind a stellar playoff performance, while also fanning the flames of debate about what exactly his legacy is. 
There. That's it. 
Kobe Bryant is, and has been for some time, the most divisive player in the league. Adored by his fans in an idealistic manner, and razed by his critics. He is simultaneously considered the hardest working player in the NBA, one of the hardest working in the history of the league, and one of the most unlikeable players. Players are on record calling him a certain term for an orifice. That's the reaction he gets from people. Many of whom are his friends. He is considered arguably the finest pure offensive player of all time, and a selfish gunner that can hurt his team with his quick trigger. 
He is the hero, he is the villain, he is the warrior, he is the prat. Beyond all of that he is the champion, again.
This is the real legacy of Kobe Bryant. In Game 7, he forced up shots, and fought fiercely for rebounds, collecting 15. He foolishly handled the ball into traffic, and played stellar defense on Ray Allen. As always, Bryant lifted his fans to greatness and kept his critics' cross-hairs squarely on him.
And that's who he is. The player who manages to constantly keep us all talking about him. His life, his attitude, his behavior, his game, his future, his place in history next to the greatest of all time. 
When the buzzer sounded and Bryant collected the ring that pushed him ahead of Shaq, (which he mentioned in the post-game presser), Bryant gave us another chapter to marvel at, and debate, to defend and attack. Jordan was idolized, universally loved. It's not hard to reach out and grasp the concept that he may have been a more heartless personality than Bryant, and yet Jordan never faced the scrutiny and passionate distaste Bryant has. Kobe has been the lightning rod for the ring. He is still considered the anti-LeBron. His legacy of raising the interest of the league is not the product of his play or the jewelry on his fingers. It's the product of those rings and the way in which they accumulated. 
To say that Kobe doesn't care about his critics is a lie. He's propelled by the same obsessive desire to crush those who doubt him that Jordan was. It is the single strongest thread between the two players. Kobe's stats don't rack up, But his attitude and willpower does. Just the fact that he's compared to Jordan is a huge compliment in and of itself, and yet it's treated as a derogatory comment. As if "not as good as Jordan" was some sort of bad place, which the rest of the basketball playing universe occupies. 
Bryant's legacy is build upon the fierce debate he has created in the sports world. He holds something for everyone, even if that something is a deep despise for his every move. And the more the world rallies behind him and throws stones at his glass house, the more he feeds on it and continues his quest to be the very best he can be. 
And that's what he wants his legacy to be.