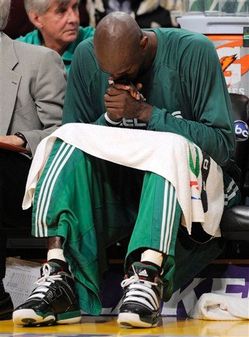 It's a very bitter taste for a team that remembers the sweet taste of champagne.
It's made worse by knowing that they had a 13-point lead in the third quarter. Worse by knowing that this team may never be together in this form again. Worse by knowing that Ray Allen went 3 for 14 in what likely will be his final game in a Celtics uniform.
Worse because for the first time this playoffs, Boston actually looked old.
"Well, there was a lot of crying in our locker room, a lot of people who care…" Doc Rivers said after an 83-79 loss at a game played right at the Celtics pace. "I just can't stress enough how crazy close this team was, you know, and that would be the word, crazy close. They're the type of group that they could scream at each other but no one picks on any of them. That's a special group."
They played special at the start. Boston came out playing physically on defense, taking away the Lakers primary options, forcing the Lakers to shoot 22 percent in the first quarter. Kobe Bryant wanted desperately to put his imprint on the game and the Celtics had a game plan to take the ball out of his hands. Boston trapped him, they pushed him off his spots, they gave him no space and he shot 1 for 7 in the first quarter. And Boston was up 9 after one.
That defensive effort continued through the third quarter, and the fans Staples were on edge. It wasn't pretty, and the Celtics were fine with that. The Lakers would make a mini-run and the Celtics would make a couple stops, a couple baskets and re-establish themselves. Boston was the better team. They were getting some transition points and they were up 13.
But the size of the Lakers kept wearing on a Boston team that missed Kendrick Perkins.
"I thought the lack of size at the end of the of the day was the difference in the game," Rivers said. "I thought a couple things hurt us – when Rasheed started getting cramps, that was killer for us because they attacked out lack of size after that, and then it made me, forced me to extend Kevin (Garnett's) minutes, which I know is not good."
Pau Gasol, "befuddled" by Rasheed Wallace in the first half (to use Phil Jackson's term), started to come to life. The Lakers were making their big run. Boston could no longer run its offense through the post because the Celtics big men were too tired to be effective, Rivers said.
So when Boston needed points, they turned to Allen. And he missed. The guy that won them Game 2 with his shooting was 3 of 14 on the night, 2 of 5 in the fourth quarter. Missing at the rim and from three.
It may well be Allen's last game as a Celtic (although he said he wants to be back), he is an unrestricted free agent this summer and other teams are likely to pay more than a Boston team that needs to start getting younger. It was an ugly way to go out, looking old.
"It's hard to see it end this way," Allen said.
It wasn't just Allen, either.
"You know, it's the fist time all year that you can actually say at the end of the day we were old because at the end of the game because we didn't have enough bodies," Rivers said, referring to Perkins. "I thought it hurt us."
It hurt them a lot. To the point of tears.