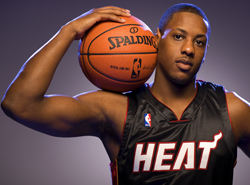 The Associated Press is reporting that the Miami Heat have chosen to
pick up their team option on point guard Mario Chalmers
. The 24-year old Chalmers had a very promising rookie campaign, averaging two steals per game and shooting 37% from beyond the arc while starting every game for the Heat. Chalmers had a bit of a sophomore slump last season; his 3-point shooting percentage dropped to 32%, his steals dropped to 1.2 per game, and he lost his starting job to basketball nomad Carlos Arroyo. 
After exercising the option on Arroyo, the Heat now have four players under contract for next season — Chalmers, Michael Beasley, Daequan Cook, and Dwyane Wade. If Wade decides to opt out of his contract, which he almost certainly will, that number will drop to three. 
Even though Chalmers had a rough 09-10 season, I think keeping him was the right move for the Heat. After all, Chalmers is a big guard who plays defense, has three-point range, doesn't try to do too much, and isn't afraid of big shots. If everything goes right, you can win a championship with one of those.