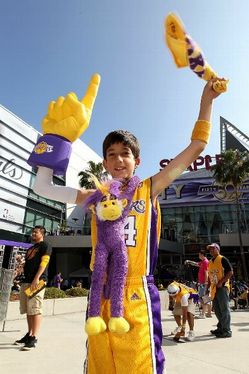 Ronald Regan would love this, basic supply and demand at work. Plus, he was rich so he could afford them.
There are Game 7 tickets to be had if you want to go tonight. And consider dropping $2,4000 for two seats high at the top of Staples well within your budget.
StubHub.com says this is the most demand it has ever seen for an NBA finals, and that tickets are going for $1,100 each, according to the Los Angeles Times.
Another ticket Web site, FanSnap.com, said their average ticket price was more like $1,560 a pop. SeatGeek had sellers asking for about the same amount, but noted that the average actual sale was "only" $788 a ticket.
Understand this — Los Angeles is a Lakers town. This is the sports team people care about. There is no NFL here, they long ago abandoned L.A. for PSLs. The Dodgers are loved, but they haven't had the steady history of winning the last couple decades, plus the current owners are complete idiots.
Outside of Los Angeles, people think Lakers game are all about the celebrities and being seen. And it is for some people in the lower bowl who can afford those seats. But for the vast majority of Lakers fans — the real ones who sit above the luxury boxes where the cameras never pan — this is a real passion. That is where the Lakers fanatics who are mechanics or sell insurance or are Thai restaurant cooks watch games. When they can afford to go.
The demand in Los Angeles is insane for tickets right now. And as always when things are in demand, the items go to those who can afford to pay. Supply and demand at its best and worst at the same time.
But don't worry, the celebrities can afford them. They will be there.