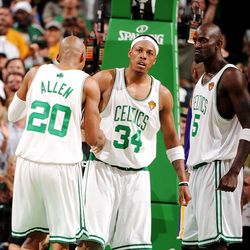 It's never going to be the same again.
This era of the Boston Celtics — The Big Three era — comes to an end tonight. Win or lose. Things will be changing in Boston, evolving. When the Celtics went out and got Kevin Garnett and Ray Allen to join Paul Pierce, everyone knew this era would be pretty short. Looks like about three years.
Ray Allen is a free agent at the end of the season. Boston GM Danny Ainge considered trading him at the deadline, and at 34 you can seriously question how long a deal he should get now. He's had a good finals, however, and based on that somebody is going to overpay. It happens every time.
There will be a lot of other changes. Not Paul Pierce, he's not walking out on the $21.5 million he is owed next year, but he theoretically could opt out. However the bench will change. Glen Davis (good) and Rasheed Wallace (not so good) will be back, but they are the only ones under contract. Nate Robinson, Tony Allen and the rest of the bench could be gone.
Tom Thibodeau's and his defensive game plans will be gone, at least until Chicago comes to the Garden on a road trip.
Doc Rivers may be gone as well. He's seriously considering becoming a family man and a television analyst for a couple of years. He may think that a title or two, that these finals runs with this team, were what he could get out of this squad and it is time to step back.
At some point, the Celtics have to start building for a future around Rajon Rondo. It is now his team, and the future is all his. That should start this summer, as the Celtics start a process of getting younger,
Boston could be back next season, but it will not be the same. Times, they are a changin'.
Take one last look tonight, Boston fans, and enjoy this moment. Savor this era, which fittingly ends in a dramatic Game 7. Because after tonight things start to change.