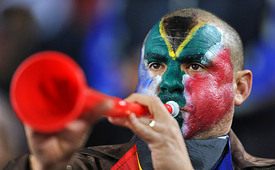 Vuvuzelas, the South African trumpet best known for making a constant, annoying buzzing sound during every game of this year's World Cup, will officially not be permitted inside of Staples center for tonight's game seven. 
According to the folks at TMZ.com, a Staples Center rep has confirmed that all noisemakers (except, of course, for the ThunderSticks) will
not be permitted to come into the stadium
, meaning that free throws and general gameplay will be blissfully Vuvuzela-free. Whether you're a fan of the Lakers or the Celtics, tonight's game seven will be a win for everybody's eardrums and general sanity.