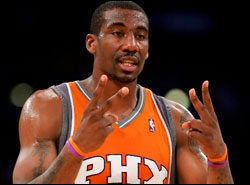 We were all thinking it. But nobody was saying it. Admit it, even those of you in Phoenix were thinking it, even if you couldn't admit it to yourself.
Amare Stoudemire is done in Phoenix. That's what a source told JA Adande of ESPN.
"Amare's done," according to the source. "He's gone."
Stoudemire has made it clear — pay me the max or I am gone. Phoenix owner Robert Sarver is the kind of owner fascinated with overachieving, low-paid players. Your Goran Dragic. Your Jared Dudley.
Alvin Gentry is a very good coach who can do a lot with young talent like that. But if you don't pay for the A-List talent — Steve Nash, Stoudemire — you don't return to return to the Western Conference finals. Forget about moving beyond that. Phoenix needs those guys, and needs more around them.
That is not where Phoenix appears to be heading. But we all knew that.