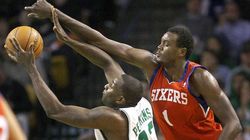 In what likely would be the first domino in a series of moves, the Philadelphia 76ers have reportedly made a trade to start shaping the roster more to the liking of new coach Doug Collins.
Samuel Dalembert will be traded to the Sacramento Kings in exchange for Spencer Hawes and Andres Nocioni, according to ESPN.com's Chad Ford.
For Philadelphia, it means they save about $5.1 million this year but take on $6.6 million next season (part of that a $4 million qualifying offer to Hawes). It also gives them a solid back up big man in Hawes and a small forward in Nocioni, both of whom are solid if not spectacular.
Also, it suggests the Sixers might either draft another big man to replace a key center, or trade down a few spots and still draft a big man next Thursday. It is rumored new coach Doug Collins is high on Derek Favors and the Sixers might take him at the two spot. Or they could trade down a few spots for someone that wants Evan Turner and likely still get either Greg Monroe or DeMarcus Cousins.
That is speculation, but clearly something is coming. Because this move on its own doesn't make a ton of sense on first glance.
For the Kings, this means they take on more salary this year but free up more cap space for next summer — about $15 million — because this is the last year of Dalembert's deal.
Dalembert also gives the Kings something they missed — a real defensive center. Someone who can block shots, clog the paint and grab rebounds (which can then fuel Tyreke Evans in transition. The Kings have been high on Dalembert for a couple years and have tried to come up with other trade scenarios to get him.