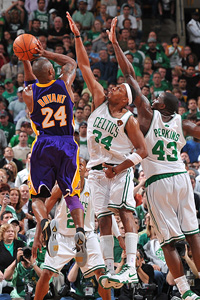 Formal game plans have been drawn up. Film has been broken down and shown to the teams. Xs and Os will be on the greaseboards in the locker rooms. The coaches will go through the motions because they are creatures of routine and structure.
But by Game 7 of the NBA finals, it is no longer about the game plan, nothing has really changed there for about three games. It's about execution. It's about the ability to adjust and adapt when Plan A is taken away. It's about getting the 50/50 balls.
The Lakers know what they have to do to win. The Celtics know what they have to do to win. And they are a lot of the same things.
Control the paint. The most overused statistic for this series has been "the team that wins the rebounding battle has won the game." It's true, but that is a result of other actions, a symptom of the real cause. The team that has been able to enforce its will defensively in the paint has won the games. The team that kept the other team shooting jump shots. The team that took away the easy baskets driving to the rim. Doing those things leads to missed shots, which will mean more rebounds for a defensive team working hard inside. That is how you win.
Get transition baskets. Both teams stymie each other fairly well in the half court, easy baskets are hard to come by. However each game one team has forced more missed shots and created more turnovers, then used those to get out and run. The team that can get easy buckets in transition will win the game. Look for Rajon Rondo, who did not get run a lot in Game 6, to really look to push the pace.
Make the other team's stars work. Ray Allen has taken over a half this series. Kobe Bryant has taken over a quarter. Paul Pierce and Pau Gasol have had good games. Any one of those guys is capable of winning one game all by themselves on the right night. If teams can defend and force one of the other guys on the team to beat you, not the guys who do it every night.
Doing all those things comes down to the basics. Execution of the game plan. Boxing out. Not losing track of your man on defense. Being smart but aggressive. Wanting that loose ball more than the other guy.
This game — this championship — is going to turn on those things, what sometimes get called the little things. One little thing, maybe.
And it won't have anything to do with what play was drawn on the greaseboard before the game.