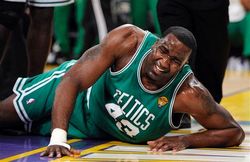 They're done for, right? Boston's defense without Kendrick Perkins in the middle — that's a donut. A donut the Lakers are eying like Homer Simpson. Right?
Not exactly.
If the Lakers could roll out a healthy Andrew Bynum then yes, no Perkins would likely mean a dunk fest. But Bynum is dragging around his own bum leg, and the Celtics have stopped fearing him on offense. Perkins had been helping off Bynum to Pau Gasol or any Laker driving the lane.
Bynum may now be matched up on a smaller defender to start the game, but he can't really exploit that.
Gasol, on the other hand, is the one people see going off without Perkins pushing him around. But that's not necessarily true. I watched all of Gasol's shots after Perkins went out in Game 6 and — once you remove all the easy transition and offensive rebound buckets — he was 3 for 9 shooting.
He had a nice turnaround over Rasheed Wallace, and had a beautiful left-handed hook over Kevin Garnett at one point. But he also missed an in-the-key fade away over Big Baby as well as a quick a turnaround in the lane over him. He missed on one post up move on Garnett. The Celtics were able to push him off his spot.
What Perkins provided in the halfcourt others can provide — Sheed is long and can be a good post defender, Big Baby can provide that physical presence. Both can slow Gasol if Boston can keep the game in the half court.
Where Gasol can exploit any Celtics defender is if he beats them down the court in transition or they do not box him out on the boards. The Celtics without Perkins were very guilty of both of those last game. Both are also correctable mistakes, things that simply require focus.
The same rules apply to Lamar Odom — in the halfcourt he has struggled all series against Boston. But if he is allowed to get a rebound then run out and lead the break he is very dangerous. Boston needs to keep him caged.
More Sheed could be key in another way — his ability to shoot the three can pull Gasol out away from protecting the basket. He can open up the floor for the slashing drives of Rajon Rondo or Paul Pierce. Big men who can stretch the floor have been a problem for the Lakers all season.
Certainly Boston is going to be missing something without the fire of Perkins defending the paint. But for one game, against these Lakers, it does not have to be a championship-costing injury to the Celtics. If their other big men can execute.