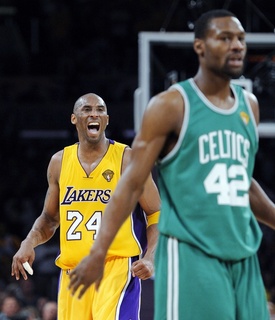 So it's come to this. After losing two straight games in Boston and having their backs shoved up against the wall, the Los Angeles Lakers are fresh off a series-tying blowout and one home win away from defending their NBA championship. One win away from getting Kobe one for the thumb and Phil getting #11. One win away from Derek Fisher going into the history books as one of the greatest clutch players ever. One win away from Andrew Bynum being legendarily gutsy instead of infamously brittle. One win away from all of it. 
What do the Lakers need to do tonight to make it all happen? Here are a few thoughts:
–Put points on the board early
Boston's defense leads to its offense. Hence, Los Angeles' offense leads to its defense. When Boston can induce turnovers and long misses that lead to fast-breaks, they're deadly. When they have to go to a pick-and-roll set for Rondo or an ISO for Pierce, they can be stopped. In game six, the Lakers scored 28 points in the first quarter, and the Celtics never recovered.
The Lakers don't need to establish anything in particular early: they just need to score points. Kobe Bryant started off game six red-hot, and that was the catalyst for the ensuing Laker blowout. He should start out looking for his shot the exact same way in game seven. Late-game dramatics would in a Finals Game 7 are what everyone expects from Kobe, but what he does in the first quarter may actually end up being just as important.
-Attack the boards
Boston doesn't have Perkins. This much we know. What that does not mean is that the Lakers should try and force-feed Andrew Bynum; Boston's backup centers are scrappy defenders, and Bynum has almost no lift left on that knee. What Bynum does give the Lakers is a degree of size and toughness that can hurt the Celtics, particularly on the glass. The Lakers need to get inside, scramble the Boston defense, and use their size to snag caroms when Boston is out of position.
The rebounding numbers from game six were almost as ugly as the final score: 52-39 in favors of the Lakers, and it was a lot worse early. The team that has won the rebounding battle has won every game in this series. If the Lakers can keep track of Rondo and fight for every rebound, they should be able to control the glass in game seven. 
–Make Pierce, Garnett, and Rondo work for their points
They say this about every superstar, but it's particularly true for three of Boston's big four. (Ray Allen always works for his points, which is why he can go 0-13.) They need to stop Rondo in transition and keep KG from running the floor with him. Don't let KG sneak backdoor and catch the lob for an alley-oop or a layup. Don't let Pierce trail the break for threes, bite on his pump fakes, or let him saunter into the lane with that slow-motion crossover. 
If they force Rondo to go to free-throw line jumpers or tough floaters, KG to turnarounds from the post, and Pierce to mid-range jumpers off the dribble, the Lakers will be fine. They just need to keep Boston's big four from playing off of one another and becoming more than the sum of their talents. 
–Get Pau Gasol playing like the best big man in basketball
Gasol wasn't a machine on the blocks in game six, but he did a great job running the floor and crashing the boards to get his points. Gasol needs to take that energy and add some confidence to it; he's more than capable of running the offense from the high post and scoring on KG on the blocks. If he can do it in game one and the regular season, he can do it in game seven. Pau needs to realize he's 48 minutes away from never being called "Gasoft" again by some ill-informed NBA fan. 
–Role players: Confident with the lead, smart if it's close
The Lakers need to pour it on if they have the chance. If the ball is moving, Boston is on their heels, and Ron Artest or any other role player has an open three, he should let fly and take the roof off the building. If the Lakers are down or it's close, he has to get the ball to the money players, contribute with his energy and defense, and only shoot when necessary. The Lakers won't win playing one-on-five, but taking the ball out of Kobe's hands when he needs it is a recipe for catastrophe. 
There you have it — if the Lakers do all those things and a few more, the old NBA champs will be your new NBA champs. Only a few hours left until we get to see if they can pull it off or not.