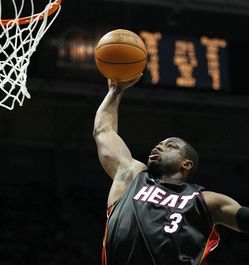 Evidently serious issues like murder, drug trafficking and grand theft are not big problems in Miami-Dade County — you get that when Horatio Caine is taking off those sunglasses.
That frees up the Miami-Dade County Commissioners to have time to do other important work — like unanimously voting for the area to be known as "Miami-Wade County" for one week. From July 1 to 7. Not so coincidentally, that is when the free agency period begins and Dwyane Wade could bolt town.
He's not. He's trying to help get people there to join him. But whatever. This makes politicians feel good. Some people get to fill out some official paperwork and keep their jobs. Nobody gets hurt.
Is the free agency period over yet? No? What do you mean it hasn't even started yet?
I seriously don't know if I can take three more weeks of this.